Biography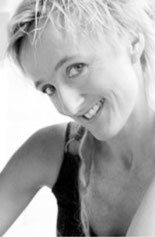 Kjersti Sandstø was born in Norway in 1969.
She first studied at the Oslo Opera Ballet School and at Fagerborg Ballet College, before she graduated at Statens Balletthøyskole (State Academy School) in Oslo in 1992.
For 20 years, she has been working as a dancer in Switzerland, Germany and Norway. In 2000, she won the 2nd  prize at the Stuttgart Solo-Dance-Theatre Festival and has since then been producing 5 Full-length Productions and several of short Productions, under the name of: Cie. müller-sandstø.
In 2003, she attended the 7th SiWiC (Swiss International Coaching Project for Choreographers) in Zurich with Carolyn Carlsson. Kjersti Müller-Sandstø is in demand as a guest teacher at city theatres in Germany, and gives regulary professional-Training for dancers in Switzerland, Austria and Norway.  She was engaged by the Tanztheater Verena Weiss at Lucerne Theater during the 2007/09 season.
In May 2009, she received the Critics' Award and the 3rd Jury prize for her "duo jetzt" at Choreographic Miniatures in Belgrade, the piece was also seen on tour with  Tanz>Faktor>Interregio 09, in Switzerland. The season 2009/10, she was the choreographic assistant and training director at the St. Gallen Theatre, under the Artistic director of Marco Santi. In 2010 she was invited as a choreographer at the Bitef Theater in Belgrade with her piece "Loved One".
Dec. 2011 she attended the Balletlaboratory at the Norwegian Opera in Oslo as a choreographer with the renowned musician and composer Bugge Wesseltoft.
Since 2012, Kjersti Sandstø has changed her production name to Sandstø Production.
Her working base is both in Switzerland and Norway.